×
‹
Vineyard description

Location: Napa-Carneros
Grapes Sourced: Pinot Noir (115, River Ranch Selection) and Chardonnay (virus free Old Wente)
Owners: Ed and Camille Penhoet

The Toyon Farm, looking down on the San Pablo Bay, includes Ed and Camille's shared passions: beautiful horses surrounded by exceptional grapes. The Penhoet's planted specifically for Ancien back in 1998 with a subsequent planting of Ed's River Ranch Selection (ask us about its storied past!) coming into production in 2009. The coolness is due to its close proximity to the San Pablo Bay, which is the northern extension of the San Francisco Bay. Morning fog is common, cooling the grapes and slowing photosynthesis and the developing ripeness, followed by drying afternoon breezes. The clay soils are shallow, going to a depth of about 2-3 feet, below which is a hardpan that the vines cannot penetrate. Additionally, the blocks are sloped to the west and southwest, providing good drainage. This combination limits vigor, making the vines spread their roots outward where they compete for nutrients and water.
Vineyard wines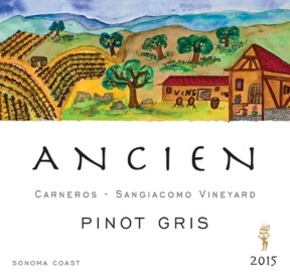 Gorgeous aromatics coupled with an opulent palate make this a delicious choice for any occasion!
Sold Out, may be available at the winery.
Please contact us for more details.
›