People
Behind every great wine...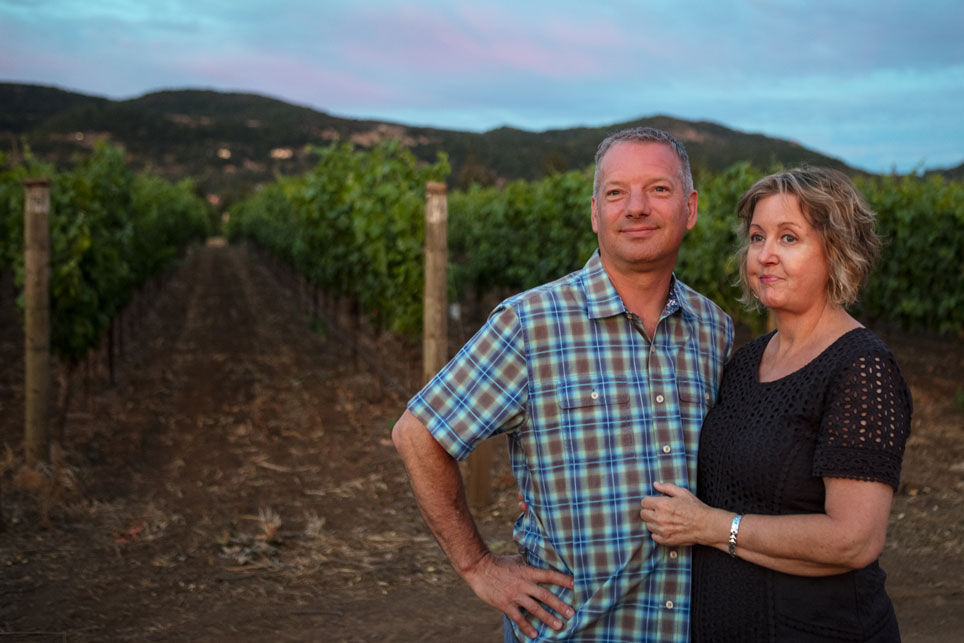 Ken Bernards
Co-Founder & Winemaker

At an early age, Ken displayed a penchant for forging his own path and doing what others dismissed as folly or impossible. Growing up in Oregon, he was impressed by the handful of pioneers who embraced the challenging and romanticized grape Pinot Noir – even while little wine culture existed at the time. His evolving interest in wine led him to work his first harvest in Napa Valley in 1986, while still pursuing his degree in chemistry at Oregon State University. As a student, he discovered his interest in the complexities of flavor dovetailed rather nicely with the field of Flavor Chemistry. His last two years saw time spent in undergraduate research on hops and wine.
[more]Upon completing his degree, Ken accepted a position with Domaine Chandon as a research enologist, or experimental winemaker. He was able to design and perform his own experiments in every area of viticulture and enology. During these years, Ken learned to isolate cause and effect in the vineyard, in the winery, and, ultimately, in the glass.
Ultimately, though, Ken's passion called for more than just experimentation. The reward to advancing one's knowledge is realizing its practical use! A visit to Burgundy spoke to his artistic side, awaking a desire to make his own finished wines full of depth, nuance, and place. In 1992, Ken made his first five barrels of Ancien Carneros Pinot Noir, marking the beginning of an ongoing quest for great Pinot Noirs.
Ken has been living his dream daily, making his own wines under the Ancien label full time since 1998. At Ancien he works exclusively with Pinot Noir, Chardonnay, and Pinot Gris. Ancien has developed into a quest of sorts, a quest to make Pinot Noir from a wide range of vineyard sites, and learning to work with the site in a way that expresses the vineyard as fully as possible. Although his winery is located in Napa, this quest has taken him from the Santa Rita Hills to the Willamette Valley--and even as far away as Morey-St-Denis, in Burgundy, France. Ken is the only winemaker to import grapes whole from France and then vinify them in California.
Ken avoids stagnation by spreading his wings, serving as a consulting winemaker for a few small prestigious Estates: Yorba Wines, Tournesol, Porter Family, Cowhorn, and Matetic Vineyard. When he is not enjoying the fruit of his labor, he might be found riding the hills of Napa Valley on his bike or if the surf is up, riding waves off California's coast.[/more]
Teresa Bernards
Co-Founder

As a lifelong Napa native, Teresa viewed vineyards and wineries as ever present, simply a part of the local landscape. By the time she was attending Napa High, the local industry offered a great way to make a little extra money – albeit through hard and physical work. Teresa hand harvested grapes for Mayacamas and Far Niente early on. Looking to avoid the heat and the dust, she quickly moved to a supervisory role overseeing bottling crews for various wineries throughout Napa.
[more]Her skills and experience led to a position of Lab Director at Domaine Chandon, and she subsequently completed her degree in Biology at Sonoma State University. She moved on to another sparkling wine house, accepting the position of Associate Winemaker at Domaine Carneros. Teresa remained at Domaine Carneros until leaving in 2000 to focus her efforts on the growing Ancien winery.
At Ancien, Teresa is involved in all aspects of winemaking as well as the details of running a winery day to day. Any given day, Teresa may be entertaining a guest, tasting the latest vintage, or conferring with our government compliance friends (no, owning a winery is not all glamour!). She is a creative chef, enjoying the nuance of wine pairings, and loves to read, hike, kayak, or just relax with her dogs.[/more]