×
‹
Vineyard description

Location: Napa-Carneros
Grapes Sourced: Pinot Noir (115, River Ranch Selection) and Chardonnay (virus free Old Wente)
Owners: Ed and Camille Penhoet

The Toyon Farm, looking down on the San Pablo Bay, includes Ed and Camille's shared passions: beautiful horses surrounded by exceptional grapes. The Penhoet's planted specifically for Ancien back in 1998 with a subsequent planting of Ed's River Ranch Selection (ask us about its storied past!) coming into production in 2009. The coolness is due to its close proximity to the San Pablo Bay, which is the northern extension of the San Francisco Bay. Morning fog is common, cooling the grapes and slowing photosynthesis and the developing ripeness, followed by drying afternoon breezes. The clay soils are shallow, going to a depth of about 2-3 feet, below which is a hardpan that the vines cannot penetrate. Additionally, the blocks are sloped to the west and southwest, providing good drainage. This combination limits vigor, making the vines spread their roots outward where they compete for nutrients and water.

~

Location: Napa/Sonoma - Carneros
Owner(s): The Sangiacomo Family
Grapes Sourced: Chardonnay (virus free Old Wente), Pinot Gris (46,52)

Beginning with Maria and Vittorio Sangiacomo, who immigrated from Italy to eventually settle in Sonoma in 1927, there are three complete generations who have worked the soils now reaching 1600 acres across Napa and Sonoma. Currently the second and third generations work together to sustainably grow the high quality grapes their family is known for.

Our love affair with the Old Wente selection of Chardonnay has many sources of inspiration including the legendary Green Acres Hill Block, also owned by the Sangiacomos. The Vella Ranch, sharing the same sandy soils, was planted in 1996, becoming home to the same selection of Old Wente Chardonnay. This is the smallest berried and most concentrated Chardonnay we have ever seen or worked with.

In 1999 we began an experiment with Pinot Gris. Based on that initial success, we embarked on a larger scale project, and the Sangiacomo's planted 2 acres of Pinot Gris exclusively for Ancien, using clones imported from Alsace. The clay soils and eastern aspect of the site produce ideal fruit for the richer flavored and fuller bodied Alsatian style that we are striving to produce. The vineyard has matured nicely, yielding consistently ripe fruit with refreshing acidity. We are the sole winery that is sourcing Pinot Gris from this special plot, our "vineyard-within-the-vineyard."

Vineyard wines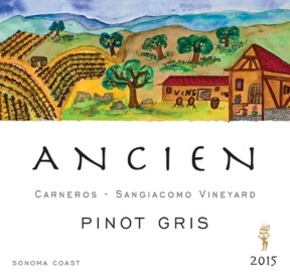 Gorgeous aromatics coupled with an opulent palate make this a delicious choice for any occasion!
Sold Out, may be available at the winery.
Please contact us for more details.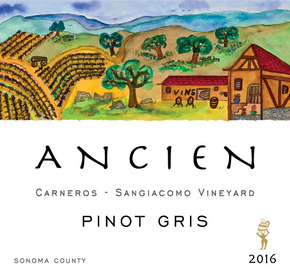 About The Vineyard... Starting in 1999, we began an experiment with the Sangiacomo family and Pinot Gris. Based on that initial success, we embarked on a larger scale project, and the Sangiacomo's planted 2 acres of Pinot Gris exclusively for Ancien, using clones that we imported from Alsace. The rich, clay soils and eastern aspect of the site, coupled with the farming expertise of the Sangiacomo's, produces ideal fruit for the richer flavored, fuller bodied, well structured Alsatian style that we are striving to produce. The vineyard has matured nicely, yielding consistently ripe fruit with bracing acidity. We are the sole winery that is sourcing Pinot Gris from this special plot, our "vineyard-within-the-vineyard." About The Vintage... We finally received much needed rain in the winter of 2015, which put us back on the road to having healthier levels of soil moisture. The 2016 vintage began early, much like the previous vintages, and the optimal growing season caused us to speculate that this would be a very early harvest as well. An unseasonably cool spell visited us mid-summer, slowing down growth. After this brief spell, very warm days followed by cool nights finished off the growing season, giving us a great balance of ripe fruit and mouthwatering acidity. While not as early as projected, our harvest still ended up wrapping up long before the rains of October came. About The Wine... We pressed aggressively for maximum extraction of the exotic spices and to gain additional structure. We then separated press fractions in order to insure the proper development of structure and lushness while in barrel. We fermented the must entirely in neutral French oak barrels at a cool 50 °F, capturing and retaining rich fruit flavors while also developing a lush, expansive palate. In addition, we stirred lees to enhance texture and develop additional layers. 374 cases produced. Tasting Notes... Spectacular aromatics are enhanced by a flinty, mineral mouthfeel and lingering finish. Asian pear, summer peach, and honeyed tangerine greet the nose along with fragrant white flowers and fresh Granny Smith apples. The nose is further made complex with whiffs of meringue, clove, and orange zest. On the palate, notes of stone fruit and lemon custard complement the bold fruit notes of mandarin, star fruit and green apple leading to a lingering finish of peach and grapefruit. Pair this with grilled meats, seafood, pastas with olive oil or cream sauces, Asian cuisine...the combination of its rich mid-palate, smooth tannins, and acidic structure make this wine unusually versatile at the table.
Sold Out, may be available at the winery.
Please contact us for more details.
›